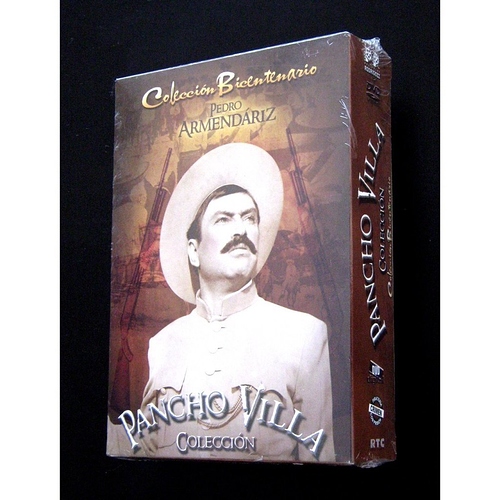 [b]1960 Cuando ¡Viva Villa! es la muerte
1960 Pancho Villa y la Valentina (Pancho Villa and Valentina)
1957 Así era Pancho Villa (This Was Pancho Villa)
I had to track down this trilogy individually, but I see now the three films have been collected into a box-set by Magdelena - Quality Films of Mexico, which I think might be the director's family-run company. They are region 1 and region 4 compatible, which means they are in NTSC and will play normally on American DVD players. English subtitles are optional and easy to read. There is considerable print damage, but the transfers are serviceable and the color is good. I'm not sure what the correct aspect ratio should be, but I'm guessing that these full screen transfers should be 1:85. In any case, these are brilliant and authentic historical films with a deeply felt, self-effacing and multi-layered central performance from the great Pedro Armendariz, whom most of you will recognize from Fort Apache (1948) and From Russia With Love (1963).
American-made films about Pancho Villa seem juvenile and shrivel up into dust compared to director-producer-coauthor Ismael Rodríguez's trilogy. Instead of attempting a definitive biopic, Rodriguez tells episodic narratives which recreate different events and challenges Pancho Villa faced. It adds up to a well-rounded and fleshed-out portrait of the national hero. The melancholy mood is lightened by some wry humor. I can't help but wonder if Lee Harvey Oswald saw the last film in which an assassin stakes out the route Pancho Villa will take in an open car and fires into him from the high window of a building. These films did play in Latino theaters in Texas and all over the USA.
Buy It Now:
while the supply lasts. Mexican DVD's don't stay in print for very long.
While not quite up to the standards of American DVDs, the transfers are quite enjoyable. The films are unique and special. This is probably the only way you'll get to see them.
Richard[/b]