Reminds me I still have a few gaps in the rainbow myself, so congrats on completing it!
Thanks! Too bad that the series wont be continued:(
Nobody got any spaghetti westerns for Christmas at all ?
Well I didn't either

But managed to pick up Cemetery Without Crosses from Arrow's (still-going) Holiday sale: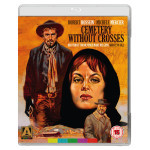 I got the Requiescant Blu-ray as I'd hoped, but that was that on the spag front.
Received no dvds for Christmas, which is fine as films which I do not like would have been purchased.
Got a couple of Kino Lorber blu-rays turned up today from amazon.com:
Bad Man's River
Captain Apache
Still need a player that can play them though

No great rush for a player for those titles some may say

Honestly I can barely remember the two movies, been some years since I watched them

But my collection is being flooded with region A-titles at the moment so will have to get one soon unless I just want them to look pretty sitting on the shelf

Sure you will get a player sometime this year

Get Mean blu-ray release from Blue Underground turned up today

Just found the 2-D DVD version of Comin' At Ya in my mail box.
Got Koch Media's release of Blindman today. Looking forward to seeing this one. Could be a contender for my Top 20.
I need another look at Blindman because, when I finally saw it (I can't remember why, but it was one of the last movies on the SWDB big 50 I caught; in fact to this day I still haven't seen Johnny Hamlet, but I digress), I didn't especially rate it.
Blindman is one of those few sw's that I have really changed my opinion about after seeing it few times. Didn't really like it one the first time but now it would be in my top20.
I bought the "Spaghetti Western 4 Movie Marathon" pack sold exclusively through VCI entertainment's website. It contains "Minnesota Clay," "A Bullet for Sandoval," "Find a Place to Die" and "Today We Kill . . . Tomorrow We Die!"
I have never bought from them before, but I emailed them before buying after hearing mixed reviews bout their releases and asked if the same discs were used for the set–the answer was yes. Picture quality was fine on the movies, but nothing great. Better than most budget backs though, and 3 of the movies were anamorphic widescreen. "Find a Place to Die" was letterboxed widescreen. I recommend the set to anyone who doesn't have the films.
I now have the Blue Underground release of The Grand Duel. This replaces my old elstree hill version which is of poor quality (like all their titles - just a word of warning). A great final shootout and a great score by Luis Bacalov (also used in Kill Bill) make this one a good little film, but not a top 20 contender for me.
Got a bunch today from amazon.de:
Requiem für Django (Colosseo blu-ray)
Fahr zur Hölle Gringo (Explosive Media blu-ray)
Der Dicke ist nicht zu bremsen (3L blu-ray)
and the Gojko Mitic 12 blu-ray box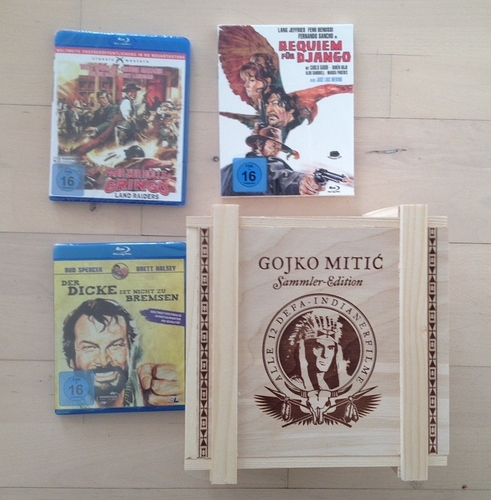 I am just beginning my subscription to the "Macaroni Western Masterpiece Film DVD Collection" Every two weeks for about 1500 yen, I get two Spaghetti Western DVDs. The only ones I had seen previously were the Man With No Name series, which is why I bought the first one. But through looking around this website and others, I became really interested in watching more. Only have seen two others, but haven't been disappointed so far.
I will get two DVDs every two weeks for a couple years, I think. I think there are 48 or 50 in total, I can't remember. I will keep posting when I get them every couple weeks and if there is any other information you want about these, let me know.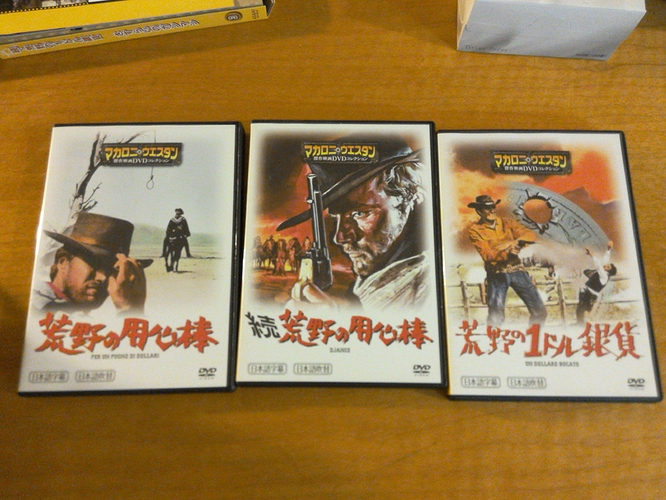 These were the first three.
A Fistful of Dollars with Japanese and English soundtracks and both subtitles for the Japanese language soundtrack and translating the English soundtrack (I can only post an article with two links, so I will leave this one out. Perhaps someone else can edit it back in?)
Django, with the Japanese, English, and Italian soundtracks and subtitles for the Japanese one as well as subtitles translating the English and Italian into Japanese.
One Silver Dollar, with the same languages as Django