Cattle Corner Railroad Station - La Calahorra branch line, Guadix.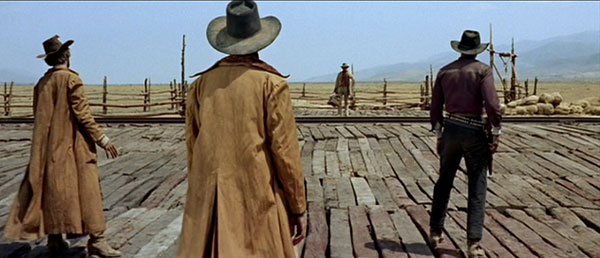 Once Upon A Time in The West begins with a brilliantly funny parody of High Noon, featuring three gunmen killing time waiting for a train; time that ironically encompasses the last few minutes of their lives. The location is a splendid ramshackle station with a vast platform of warped logs and a noisy windmill whose ungreased axle screeches in an irritating rhythm. It would be great to report that this superior and unforgettable piece of art direction still stands there, baking in the Spanish sunlight for all visitors to come and marvel at, but sadly there's nothing left. And there was nothing left when I went there in 1972. This place served its purpose for the film and then disappeared.
Perhaps Leone didn't want other movies coming along and showcasing this unique construction, or maybe it had to go to make room for something else. I'm sure the lumber would have kept many a Spanish home warm for the winter.
The location, however, is easy to find. It's on that same piece of branch line that used to connect Lacalahorra Station with Lacalahorra town, a line which now terminates to make way for the greatly expanded Spaghetti junction of roads that loop around the new main highway heading straight into Guadix. It's that stretch of track that (NEARLY) every Spaghetti Western uses for its railroad scenes, Yes friends, Leone had Cattle Corner built smack on top of Tucumcari.