FISTFUL OF DOLLARS
These articles were originally published in William Connolly's fanzine Spaghetti Cinema. The locations were found during the 2000 and 2002 trips by me, the late Don S Bruce and his then wife Marla Johnson.
Marisol's Farm - Cortijo El Sotillo, Almeria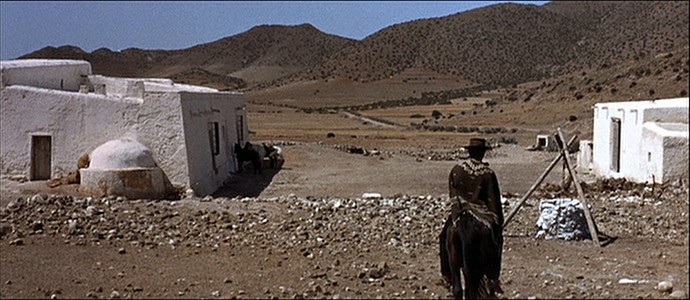 Don't know who the dude below is. Could be Tom Betts. Don started taking passengers with him after we'd finished hunting.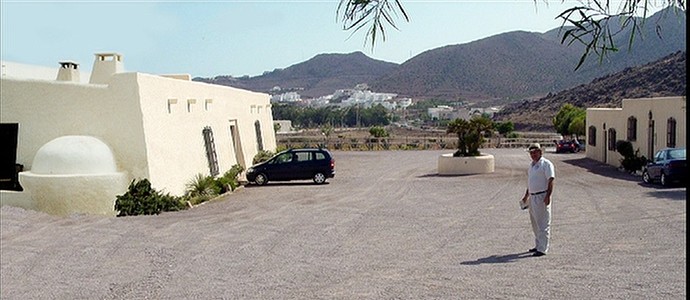 Marisol's farm is just North of San Jose, on Almeria's Eastern Coast; a large bustling beach resort with Hotels, Souvenir Shops and Children's Play-Parks, that during Leone's time must have been just a tiny cluster of lonely white buildings nestling beneath the rolling hills that surround it.
Leaving San Jose by the single road going North, you would ignore the first right turn to Cala Higuera, and almost immediately look for a small private driveway on the right curving for a short distance to a group of very cleanly whitewashed modern-looking buildings.
Marisol's Farm was originally identified by Oliver Tocanne, a Spaghetti Western enthusiast who tells of having spent many holidays in Almeria over the years, searching out Western Locations. He wrote of his findings in issue #59 of William Connolly's "Spaghetti Cinema" publication, describing it as "private property" and mentioning that "Beginning this year (1992) a new owner is 'doing up' the farm." It's name was Cortijo El Sotillo - El Sotillo Farm.
Despite having access to this information supplied by Olivier, Don and Marla were unable to locate the farm in their 1999 trip, but in the 2000 trip we finally stumbled upon it.
I think it was Olivier's statement about "private property" that had hung in my mind, because I was expecting something way off the road with chained gates, and large signs warning "Coto Privado De Caza" (Private road belonging to the House) which were a common feature in much of the Almerian countryside.
This time round, Don had brought some excellent frame grabs from the movie, and so we began our usual routine of parking at likely looking dirt tracks off the main road, and trying to match the hills in the picture with the hills surrounding us.
Rule Number one in searching Spaghetti locations: "Match up the hills".
Well we got the hills on the Eastern side looking pretty good, although time of day during the movie's shooting and time of day during our searches often gave conflicting lighting effects, so it wasn't always easy to be sure how close we were to where we needed to be.
The dirt road on which we had parked led a short way to a bunch of ruined out-houses, and further up towards the hills a very obvious private farm. Tocanne's photo of Marisol's farm had depicted a rather delapidated building, and the suggestion that in 1992 the owner had been doing it up gave us concern that it might now be unrecogniseable. So we were debating the long walk up there.
Fortunately, when we turned to match the hills in the opposite direction, there was nothing lining up at all, so we determined to drive further back down the road to San Jose, to see if the hills there would align more accurately with our screen grabs.
Don tends to drive with, how shall I describe it? - a certain alacrity, and so getting him to stop at the point on the road that you think will yield best results, often results in a long walk back, so I said "just pull in here", indicating the grand driveway of what looked like a very rich and very modern house. I figured that once on the drive, if he didn't hit he brake when I wanted, a building might just stop him.
We were half-way up the driveway, with me looking out the back window at the hills I needed to match, and Don saying "how far you want me to go up here?". At that point, I turned to look ahead, and found us just about to be stopped by a building. And simultaneously all our jaws dropped at once, because we'd actually arrived at the place we were looking for, and I said "Oh, this'll do just fine."
The "house" consisted of the two main buildings as seen in FISTFUL, very clean very white, looking exceptionally new. The one with it's unusual inwardly-leaning walls, like a pyramid with the top chopped off, where Marisol is imprisoned, and the squat row of little boxes on the other side where Jesus is forced to stay.
There were some new additions to the familiar parts: the rear of Marisol's house extended way back, the true size of which was hidden by the large frontage, whilst Jesus' house was now longer. There was a large ranch area at the top end of the little street, containing several horses, and in this central area a mock fountain and several parked cars.
As we got out the car and started clicking furiously with the cameras before someone came out and chased us off with a shotgun, we could hear a baby crying, an eerily reminiscent echo of young Jesus crying because he couldn't be with his mother, Marisol.
Moments later, a light truck drove into the yard, and I quickly approached the driver to apologise for being on private land, and to show him the photographs of FISTFUL to legitimise our behaviour. "Ah Si, Sergio Leone! Clint Eastwood!" the man said immediately
The old man was the right age to have remembered this stuff, so it was a promising conversation. Very often we encountered people who immediatley recognised Clint Eastwood in our photographs, but hadn't a clue that we were actually standing in the same place as the photograph was depicting. Rule number two: "a lot can happen in thirty years".
The old man showed us where the new parts had been built and described how it had changed from the time of the film, and he told us that the place was now a Hotel and Bar. Then he indicated that he had to go, so I thanked him and we shook hands and he turned towards Jesus' house which was presumably where he now lived, and naturally enough, now that we knew we weren't going to get chased off, we went into the Bar.
The interior is spectacular. It's decorated in old Spanish style with dark wooden beams, glistening white walls, various antique farm implements displayed on the walls; very reminiscent of the horse-brass culture of Oldy-Worldy English country pubs.
Further inside, there's a grand hall with leather sofas, oil paintings adorning the walls, glistening chandeliers, and cool marble floors.
But I can tell you all I wanted to do was get in that bar, order a Cerveza and smoke a congratulatory Toscano.
The crying baby belonged to the young barmaid who served us, and as had become our custom, when we leaned on the bar we would "accidentally" leave the photographs we were carrying prominently displayed on the bar top, the right way up for the bar person to see.
The girl reacted in familiar and spectacular fashion: her eyes widened and her jaw dropped.
Then I would say "Conosce?" which is probably neither Spanish or Italian because it's thirty years since I learned either of them, but is supposed to convey "Do you know this?"
I would follow up with "Este aqui?" - is this here?
"Ah si! Clint Eastwood!
"Per Un Punado De Dollari", I would helpfully offer in my strangled accent, which usually got people asking if I was German. And then the photos would get passed round the bar, and the locals would join in excitedly telling each other all sorts of things about this being the place where Clint Eastwood was.
By now I'd recognised that the old man to whom I had originally spoken had arrived and perched himself on a stool at the end of the bar, and since he had been here at the time of Leone and Eastwood and knew everything there was to know, he suddenly became the man of the moment. Big smiles everywhere, photos passed around, lots of excited chatter, and eventually the barman turns up and the girl shows him the photos, and now it's time for him to widen his eyes and drop his jaw, and everyone has a great time. Even the baby has stopped crying.
We sat and drank there for a while, and I lit a second Toscano. It was good to be there at Marisol's farm and relax and enjoy the ambience of the place. Before we left, Don took out all the photographs that we had of Marisol's farm from the movie and handed them to the girl. "Tell her they can have them", he said. I don't think they needed my translation, they were so excited. And then they started looking for places to pin them up, and when we tried to pay and leave, they insisted the drinks were free, and the hardest part of the day seemed to be Don struggling to leave some pesetas on the bar and not having them pushed back into his hand by a group of very happy people.
It's called the Hotel Cortijo El Sotillo, and the address is Carretera entrada a San Jose, s/n/ 04118 San Jose - Nijar (Almeria); Telephone Numbers are 950,611100, Fax 950,611105, Restaurant Reservations 950,380216, e-mail sotillo@a2000.es.
(I wrote that in 2002, so who knows if it's still there.)
Tonino Valerii was Leone's assistant at the time of FISTFUL OF DOLLARS, and subsequently directed Lee Van Cleef in DAY OF ANGER (I Giorni Dell'Ira). Several sequences of this latter film were shot here at Marisol's farm, which also provided the background to scenes in JENNIE LEES HA UNA NUOVA PISTOLA (GUNFIGHT AT RIO BRAVO).
The Mexican part of San Miguel, where The Man With No Name encounters the dead horseman bearing the sign "Adios Amigo" secured to his back with a knife, was filmed at the village of Los Albaricoques - "The Apricots" at the South East corner of Almeria province. These days, the place is easily reached from junction K.471 of the N-340 Motorway heading Eastwards from Almeria and then heading North for the coastal area around Mojacar.
If you are coming from Almeria, take a right turn at junction K.471, then just stay on the road for about 12 Kilometres, passing through the villages of El Barranquete, and then Los Nietos, where you ignore the crossroads and drive straight ahead. The next village is Los Albaricoques, perched on a little plateau, and approached by a winding dirt track lined with Yucca trees. When you look up that dirt track to see those white "adobe" buildings clustered at the end, you may get the strange impression that you're in another Leone Western entirely - Like, isn't that Agua Caliente I see before me? But more of that later.
The clue to this location was first provided again by Oliver Tocanne in that very valuable issue 59 of "Spaghetti Cinema", and Don and Marla rediscovered it during their 1999 trip.
Los Albaricoques is now very prosperous, with an entire new street of two-storied modern-styled houses replacing the delapidated hovels past which the dead horseman rides. And I'm sure it's the Tennis Courts that prevent us getting exactly the right angle to photograph the arrival of The Man With No Name.