Just got the news, arrivederci Angel Face…
Sad news…R.I.P. Giuliano Gemma
Damn…not something I expected to read. R.I.P indeed. Guess i'll be digging out Return Of Ringo tonight :'(
Very sad new, indeed.
I will be watching the Ringo films tonight.
RIP Gemma the men is gone but the memory will remain
Thank you once again, Giuliano. You'll always be with us. :'(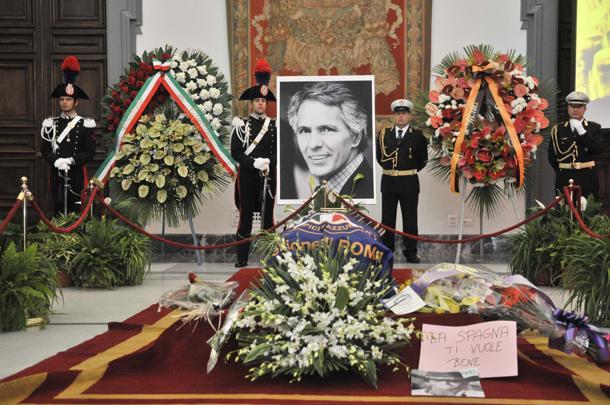 The day before the accident I had just been rewatching "the return of ringo". It is shocking to think when you see his movies that he has just died…
Giuliano Gemma's funeral in Rome.
Thanks for the links, chameleon. These videos make me even more sad, good to see Nero and Testi though.
BTW, your avatar is very arousing.

It's heartening to see such crowds at a funeral for a Spaghetti Western star. Gone, but far from forgotten.
Deeply distressing to hear of the tragic loss of Giuliano Gemma. He was, and will always remain, one of my favourite Spaghetti Western heroes. A true legend, and a loss to us all. R.I.P. Giuliano…
[quote="chameleon, post:30, topic:3263"]Giuliano Gemma's funeral in Rome.
Don't understand the language, but there's no need to - very sad and heartbreaking.
I should've come back on the forums to pay my respects when this happened. I made a long-winded post on facebook at the time. RIP Giuliano Gemma.
R.I.P.
Very sad to see him not included in the "In Memoriam" segment of the Academy Awards tonight.