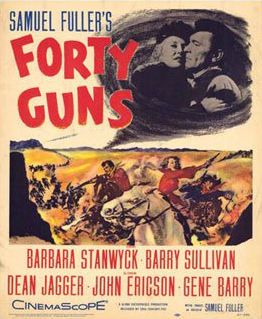 Forty Guns (1957) is an excellent Western, directed, produced and written by cult director Samuel Fuller, who made such classics as The Big Red One (1980) among others.
The plot of it is unusual, which is about a powerful rancher, played by Barbara Stanwyck, who rules an Arizona county with her private posse of hired guns. When a new Marshall called Griff Bonnell (Barry Sullivan) arrives to set things straight, the cattle queen finds herself in love with the avowedly non-violent lawman. Both have itchy-fingered brothers, which ends in some surprising deaths.
For a movie made in America during the fifties, when the censors where still in full force, it is quite a violent film with more than your average number of deaths. Interestingly, at one point, the camera focus's only on Sullivan's eye's, in a style not dissimilar from what Leone dd in his Spaghetti Westerns years after. The photography is splendid, with long, long tracking shots and high contrast black and white photography. The script is more than a little odd, but it does the movie no harm, apart from an annoying happy ending.
In conclusion, this is a very different Western than from what was being made at the time with a number of hugely enjoyable stylistic touches. A must for all fans of the Western genre.