Looks like Amazon.com now has up for pre-order with December 22 release date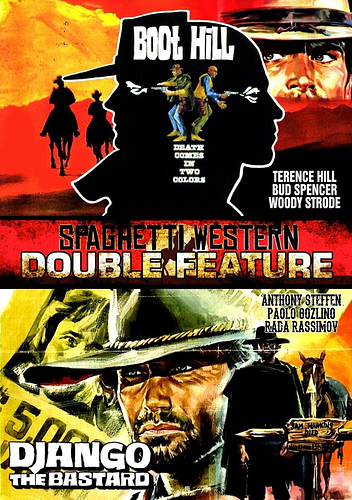 Got a 'shipped' email from Retrovision, so we'll see …
Have they taken payment from you, Carlos? Django the Bastard had been listed as available for purchase on the Retrovision site for a long time now, long before the decision to bundle it with Boot Hill. And the Amazon link is presently listing it as "Unavailable, don't know when or if it'll ever come back in".
I bought this back when it was first announced. I shot him an email since everyone was getting tracking numbers and he shipped mine last week. It should be delivered today, I'll keep you guys posted!
Edit: Just came in today, basic dvd, nothing fancy. I'll pop it in tonight and see how it looks. Claims there's English and Italian audio, no subs, and 2.35:1 anamorphic
Edit 2: While the cut is still the 98 min US cut, the quality is a considerable improvement over the VCI dvd. Much sharper and not as dark of a picture. The audio is improved as well, not tinny like the VCI disc.
Yep, similar situation. I ordered mine from the site as shipping was cheaper than from E-Bay. Mine came today as well. I'll probably take a quick look tomorrow. I used PayPal and they just posted the payment.
would be great to finally hear some comments on this one!!
sent them an email again, let's see what's comin back
Il Bastardo here, straight from RetroVision!
We were going to stock this release at Amazon in late-December, but we have been unable to properly receive payment and leftover stock due to moving to different unit. I want to continue to stock at Amazon, but I've yet to reach someone who can help us with the matter. The DVD is available on eBay, DiabolikDVD (should be listed by the end of the week), and the RetroVision site.
It should also be noted that if this release sells well, I can release a few more Spaghetti Westerns on DVD and eventually Blu-ray, especially one that has never seen a DVD release in any part of the world.
If there are any recommendations for the next SW release in terms of quality, special features, design, or even title requests, you can always let me know. I'm very happy with how this DVD turned out, but there's always room for improvement.
Also, kudos to Sebastian for letting me know there was a discussion about this release. Love the forum and the site, but haven't been able to visit as often as I should.
Thanks for taking the time to respond, and we're looking forward to the release. Glad to hear there'll be more. I am sure there are some ideas floating around. Thanks for stopping by and I hope to see you around a lot

I remember you were discussing releasing some other titles in another thread, those still stand or do you have more to choose from now? The PQ on DtB (watched this morning) was really good, same with audio. Comparable quality is always welcome. Uncut prints as well, if possible, though I know there was trouble doing so with this release. Double features are welcome and of course, the films that haven't seen any English friendly releases are preferred! And in regards to special features, interviews and audio commentary are always welcome!
In response to your comment on the cut of DJANGO THE BASTARD, this is the uncut version. The VCI is chopped by about a minute or less, as many scenes were cut short for some reason. This is the true uncut version of the film, as far as I know. Thanks for your comments!
Oh! The database lists the runtime as 107 min, while this runs for 98, from my observation?
Let's correct it! With all these discussions we have in here, we need to make sure that the fruits of our investigations find their way into the database

Yes, I'm reading through the DtB forum thread; halfway in there seemed to be some confusion in talk over PAL conversion, though the longest listed running time was 100 min on a German disc. The Brazilian disc is listed as running for 107 min, perhaps that's where the misconceptions come from?
I've seen many different cuts of this film and I've never come across anything over 97 mins (when adjusted for NTSC playback). I know one German DVD from MCP is cut by a few minutes and and both Italian editions are trimmed by a few frames, but still should be the same length. Will try and track down the Brazilian disc and see if there does exist such a cut.
That is a Brazilian one, nice find
The uncut German DVD runs 94:51 min, that's a theatrical runtime of nearly 99 min.
Some sources say 101 min (Bruckner book, taken from Anica.it) or 107 min (Westerns all Italia), but the 99 min is the one we have.
It was 102 min in the database actually. Probably because I had a 98 min version of which I thought it had a Pal runtime.
I changed it to the aforesaid 99 min.
The French DVD has exactly the same length 94:51 min.
Can someone post some screenshots of the Retrovision dvd for Django the bastard and Boot Hill