Love the poster

PS: Thought this was a mock up, hadn't realised it has an alternate title.
I think we all took the alternative title as a directive.

Where about is this location? I probably went past it without realising what it was when I was there last year

It's above Mini - Hollywood … if you continue from the western town, into the hills, there are two trails … one that takes you to the 'Duck You Sucker' bridge and eventually to Tuco hill.
The other trail which goes to the right is about a quarter mile from the main road … there are 3 buildings, the remains of a farm. Not that exciting to the casual viewer. Very exciting to a Giuliano Gemma fan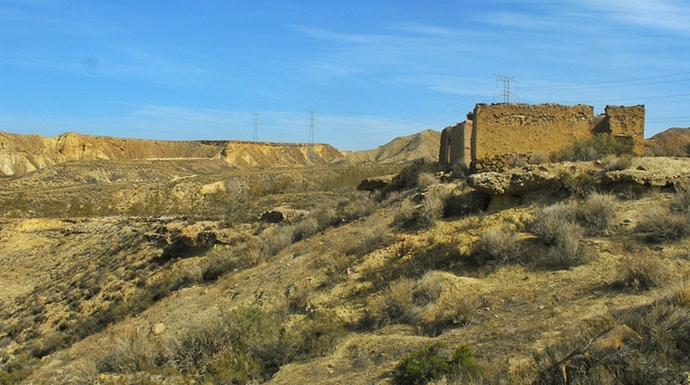 Got damned power lines getting in the shot

It must be an interesting feeling looking over the landscape in real life
All that crap appeared about a year before the last visit in 2014 … they somehow managed to ruin previously unspoiled views of iconic landscapes - just glad I got there before the McDonalds and Starbucks pop up.
PS: It's very emotional to visit these areas, which are naturally interesting … but more so with so much film history from a period which will never be repeated.
McDonalds and Starbucks… I think a new spaghetti must be made where the stranger comes to town and gets a #2 large sized from an automated kiosk
I can kind of imagine the feeling of being there… hope I get the chance to go some day
It's simply magic … when you walk around the canyons and hills, automatically you hear Morricone in your head … or Rustichelli if that's your preference

Hi Aldo,
can you pls confirm if the buildings above are the same as in the satellite picture below & map?
(just where the road takes a 90 degrees turn to the left)
I was in Tabernas earlier in the year and went on the road to the right (after the river bed, 1st mistake) and drove up (2nd mistake) until the road flattemed out. I remember passing a building on the right that was in off the road and slightly lower than the road (the satellite shows 2 more buildings nearly). Unfortunately I didn't stop or take a photo.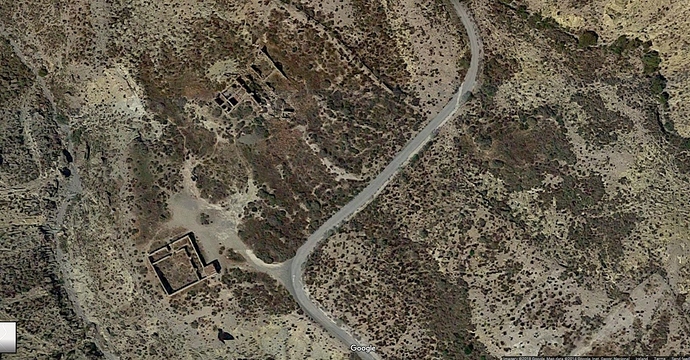 That's it precisely … I found it by accident a few years earlier, when I went further into the hills, looking for the 'Fistful of Dynamite' coach explosion location … I was on foot, so plenty of rests en route and perhaps more time to take in the surroundings.
There are still loads of places I haven't checked out fully … so I reckon I'm due another visit soon

I visited Almeria 2 weeks ago - it was good to explore this location properly.
The guide book that I was using, La Almeria de Sergio Leone, gave the location of the stagecoach scenes & Juan/John eating/talking as being further up the road past Leone bridge but I could not find it. After returning home and searching on google satellite images I found the correct location for some of these scenes, as Aldo mentioned above, on the road to the right of the one to Leone bridge (near Mirador Desierto de Tabernas).
I was just a short walk from here last year without knowing it!
I take it that the stagecoach from Duck you Sucker only went up 1 road at this location?
There's only one way I know of, and it must have been a stressful experience bringing the coach up there, as the road is in very rough condition.
Fortuneately I fall in the latter. Really appreciate the directions, as I've just posted in the Almeria thread I'll be taking another trip there later this year and I'll be sure to check this place out then

Definitely is.
I just saw California on a Wild East DVD, and it felt very boring and unlikeable at least the first 1/3 with horrible non-SW music accentuating a more American style.
Later on the film got slightly better (with a few better organ music parts) and more SW like. The typical slightly acrobatic Gemma fist fights were there, nothing I prefer though.
I like Return of Ringo as a better Gemma SW.
The best was to once again see many different Tabernas desert locations.
I hope the other SW on the disc, Ramon the Mexican, will be a little better (lower IMDb rank though).
California may now after a first view be ranked by me for a tie for place 23-28 with a heterogeous group of other also not so satisfying SW movies A Sky Full Of Stars For A Roof, Run Man Run, Red Sun, Navajo Joe, God's Gun, or even just below those and instead together with my lowest ranked own SW The Stranger And The Gunfighter (but not having even bothered to view Captain Apache due to its reputation).
California is obviously not close to my preferred SW style, with only the last half hour or so acceptable, so after 2 views I rate it as low a 4 out of 10, but understand that opions differ very much.
I think the mentioned SW in the citation are all slighly better or less weak deserving a 5 of 10 except for the very weak The Stranger And The Gunfighter.
For example the Gemma-movie A Sky Full Of Stars For A Roof is still a very light-weight partly comical SW but at least it has great Morricone music and a little more SW feeling. and Run Man Run is more homogen SW but still not very good. Regarding God's Gun I may rank it up one point later. It is more different than really bad as its reputation I am beginning to feel.
I remember being disappointed by the movie and also bored. The storytellling was mess. It is a movie more about feelings than about a story and if you are not in a mood for the very specific atmosphere the movie offers you won't enjoy it. Gemma is super cool though and I wished he made more westerns at that time. Without him there would be no reason to watch the movie.