Google translation, from Dutch, of my "Bruce Lee Against Ironhand" review.
Bruce Li plays a tough cop named - of course - Bruce. As you would expect from this distinguished Bruce Lee clone, he has mastered the martial arts quite well. This is also necessary, because there is a terrible killer active. Who kills people with the iron finger technique, an extremely deadly kung-fu trick. And so Bruce investigates …
Da jiao tou yu sao niang zi (Bruce Against Iron Hand)
The film acts like a whodunit with its mysterious killer who is never recognizable in the picture, but it is immediately clear who it is. There is hardly any story in this piece of Brucesploitation and the makers have realized that. What there is narrative about is in fact more than compensated with fights. This makes it a fairly action-packed kung-fu film that does not get boring.
Bruce shows that he has a good command of the facial expression of his better-known namesake, although the man clearly lacks Lee's charisma. He can also fight, which also applies to the other actors. Unfortunately the action choreography is not too inventive, but it certainly doesn't get boring.
Finally, we have a nice-looking actress who portrays a nymphomaniac. She's always wearing something so you can see her nipples; fun. It's hilarious when she goes horse riding on a guy. This guy ends up in a fight with the murderer. In his black underpants, he is beaten to death on a lawn. Pretty fun.
Da jiao tou yu sao niang zi (Bruce Against Iron Hand)
Discussed version
Bruce Against Iron Hand
Distribution: Worldwide Video Productions
Medium: VHS
Image format: 4: 3 lbx
Language: English
Subtitles: Dutch
Running time: 90 minutes (PAL)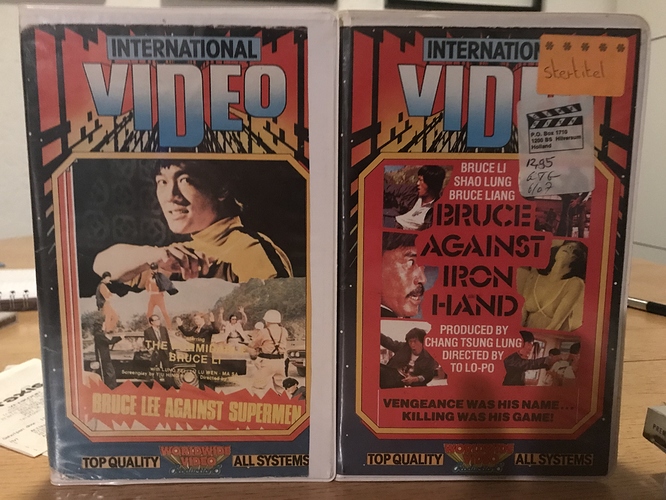 I was just thinking we need a thread for this!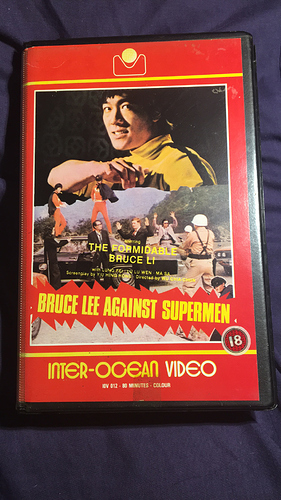 Here's my UK VHS of Bruce Lee Against Superman. It was released on the Inter-Ocean label. They released a lot of spaghetti westerns and Brucesploitation films.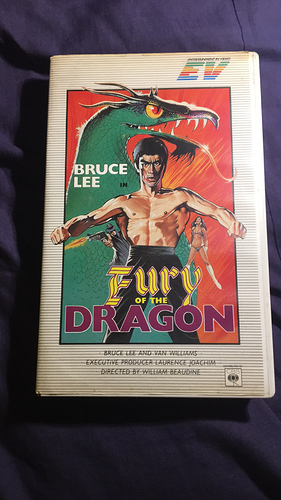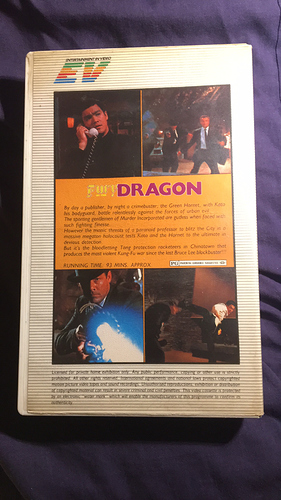 Although it doesn't completely count since it contains the real man himself rather than an imitator, the film itself was designed to exploit Bruce Lee's popularity, so it deserves some mention.
'Fury of the Dragon' was pieced together using footage from the TV series, The Green Hornet, and partly edited by a 10 year old kid, which makes sense considering how clumsy the final product is. The title and poster artwork gave consumers the illusion that it was an authentic Bruce Lee action film. I remember when I first saw the artwork and thought, "wow, how did I miss this?"
Always wondered about this one!
ENTER THE GAME OF DEATH (1978)
Directed by Lee Tso Nam the guy who helmed FIST OF FURY II. It stars Bruce Le. It is a South Korean movie. It is notable for starring Bolo Yeung and a Young Steve James, future star of the AMERICAN NINJA films.
The story is pretty standard, Le is tasked with retrieving a scroll from the tower of death before some evil Japanese do.
The action is entertaining enough. On the first floor he fights a monk. On the second floor he fights a man who uses snakes as weapons. On the third floor he fights a nunchaku master. On the fourth floor he fights a possessed man who attacks when a red lamp is turned on and a shaolin master. On the final floor he fights a brute.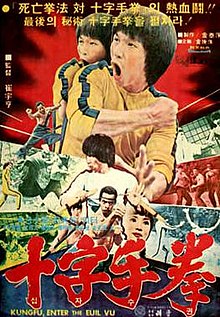 Bruce Le was the funniest of all the imitators. His facial expressions are priceless.
Yes!!! Le was like Bruce Lee on a massive sugar rush. Le was so… Manic looking.

Here are some tapes I have:
Is that Ron Van Cleef in KUNG FU FEVER?
Cool. I've only seen him in the BLACK DRAGON films.