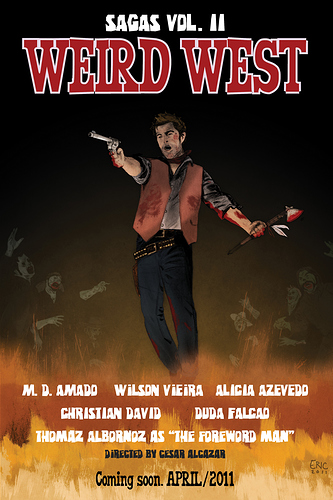 My South-of-the-equator amigo Cesar Alcázar and Argonautas Editoria are publishing the second volume of their Sagas anthology series this April, and it will feature spaghetti-influenced weird western stories (their first focused on the sword & sorcery genre). Cesar runs the blog B Movie Box Car Blues[/url], and previously ran the fantastic spaghetti-themed blog Dollari Rosso, so he knows his stuff. I'm sure these stories are going to be awesome, and if you know Portuguese, you should buy a copy. If you don't know Portuguese, maybe we can hope there are translation plans for the future…
To help him advertise the effort, I designed and drew the poster seen above, which Cesar unveiled to the world on the Argonautas website today.
More information on the project can be found at the [url=http://argonautaseditora.wordpress.com/]Argonautas websitehttp://bmovieblues.blogspot.com/.