Hat jemand den Film schon gesehen ??? Has anyone seen the movie yet ?
http://www.spaghetti-western.net/index.php/Django_Nudo_und_die_lüsternen_Mädchen_von_Porno_Hill_DVD_Rezension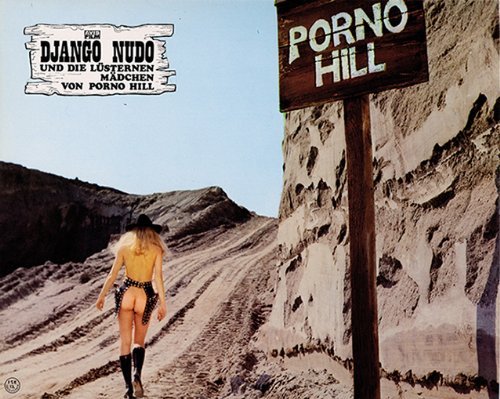 Yes. An average affair as I remember.
Lots of female nudity? If there is a naked Django, I'm not willing to watch this one. :

@Mickey13: Well, actually there is a lot of female nudity (breasts only) but nothing spectacular (in the contrary).
@ENNIOO: Really an average affair? I think even Fidani, Crea or Lattanzi have made better movies!?
Breasts only ? With that cover ??
You got me

butts too :o
I thought it was a porn flic …
Me too … Lüsternen Mädchen von Porno Hill … I don't know what Lüsternen means (anything to do with lust?), but Porno Hill creates some expectations.
Quickly checked things, of course:
[size=12pt]Lüstern:[/size]
(Dutch) wellustig

(English) lustful
There are no hardcore scenes … it's a softsex flic in the style of the "Lederhosen" or "Schulmädchen-Report" movies but even cheaper :-\
Dir hat er wohl gut genug gefallen ihn schon wieder zu sehen :))