Jaime Mir Ferry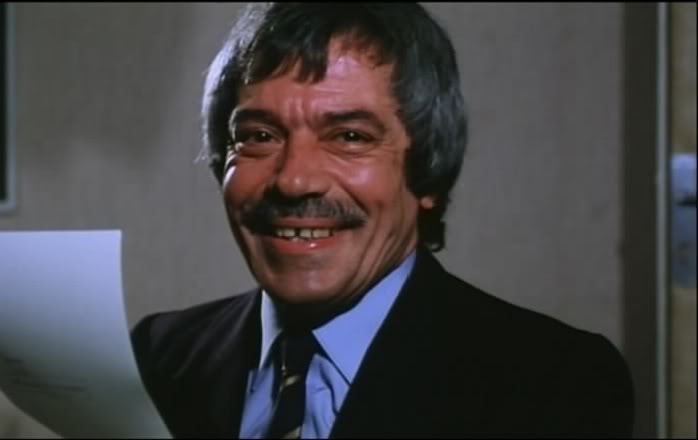 Jaime Mir Ferri claims that he appeared in about 125 films in an acting career that began in 1970 and ended twenty-four years later, with Jess Franco's Downtown heat. In the intervening period, he became one of the most recognisable supporting actors in Barcelona-made films, often seen in crime films as assorted dealers, fences, etc. His face, not his name, was also known to numerous Spanish cycling viewers, to whom he became "the guy with the moustache": at the end of a race, he would run towards the exhausted winner and wrap him up in a towel to wipe off his sweat, give him water and so…while also showing off the sponsor's badge on his shirt before the TV cameras. This meant that, even if the team he was working for lost, they would still make a lot of money.
An orphan, he was a taxi driver and amateur cyclist in the fifties, who also performed delivery jobs for a sports newspaper. His contacts with the worlds of sports journalism and cycling led to a job as a press driver for cycling events. Soon, he worked in the same capacity for a cycling team and became a general purpose professional in this world: usually, he was assigned to polish the appearance of the winning cyclists between the end of the race and the moment they climbed the podium. This was the first act of a long career in which he acted as public relations man for various cycling teams and even discotheques, as well as the owner of a bar. Now, in his eighties, he still remains an active figure in the world of cycling.
Mir Ferri's acting career began in 1970, when he was called to act as cycling consultant on Juan Xiol's film Las piernas de la serpiente. In the event, Mir's looks – with his lanky frame, craggy features, long moustache and heavy head of black (later grey) hair – must have pleased the filmmakers for he also landed a role. Having enjoyed the experience, he auditioned for a Balcázar western but he was turned down because he couldn't ride a horse. His reaction was to take riding lessons and audition again one year later: he was accepted.
At the time he began acting, the Spaghetti Western was on the way out. Some sources state that he appeared in thirty or so films of this kind: I have seen him, uncredited, playing Mexican bandit types in Iquino's Los fabulosos de Trinidad (where he played Fulgencio, one of Fernando Sancho's men) and Juan Bosch's Dallas, where he could be seen towards the beginning, as one of the men led by Juan Torres.