1975 - Dir: Damiano Damiani, Sergio Leone (uncredited) - Un Genio, due Compari, un Pollo (I), Un Génie, deux Associés et une Cloche (F), Nobody ist der Grösste (D) - Cast: Terence Hill, Miou Miou, Robert Charlebois, Patrick McGoohan, Klaus Kinski, Rik Battaglia, Raymond Harmstorf - Music: Ennio Morricone.
This is the last western Sergio Leone was involved in. Not only did he come up with the idea for the movie, he also produced and supervised it, and directed the the pre-credits sequence. But …
For the rest of the review, look here:
https://www.spaghetti-western.net/index.php/A_Genius%2C_two_partners_and_a_dupe_Review
---
For more info visit:
Database page: Genio, due compari, un pollo, Un - The Spaghetti Western Database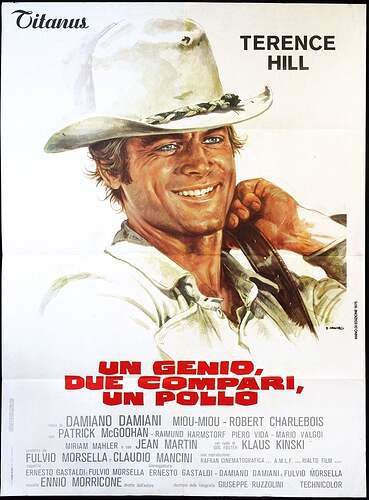 Give A Genius, Two Partners and a Dupe your rating out of five stars!