The Suspiria remake. Just looking at the runtime I know it's going to be a total bore.
Trying to decide between my Blu Rays of Black Jack or Oggi a Me…Domani a Te!, or my DVDs of La Morte non Conta di Dollari or Sonora for my viewing either tonight, Friday, or Saturday. I plan to write about all of them in my blog at some point.
I'm considering Antonio Marghrettis THE LAST HUNTER, haven't seen it in 8 years or something. Don't even remember if I liked it. Any fans of it here?
Watched it for the first time a few months ago … it's not exactly good, in the traditional sense of the word, but it is oddly compelling - Got through it all in one sitting … there's enough low budget thrills and spills to keep it moving along.

In the "real world", it would get a 3/10 … but with it's SW connections, to a genre fan, it's worth 6/10.
Didn't get myself time to watch it, but will try again tomorrow. Thanks! It's whorth a rewatch.
Josey Wales!
Definitely my favourite US Clint Western.
I quite liked it, too, but I tend to like everything Marghertti made. I remember it being a sort of Apocalypse Now meets The Deer Hunter. Obviously not quite in the same league as those films.

Silverado. Yes. I feel it. It's going to change my life.
Watched it a couple of days ago. I made a few minor changes to a review i wrote about ten years ago, will have another look at it tomorrow morning and will then load it up on my Blog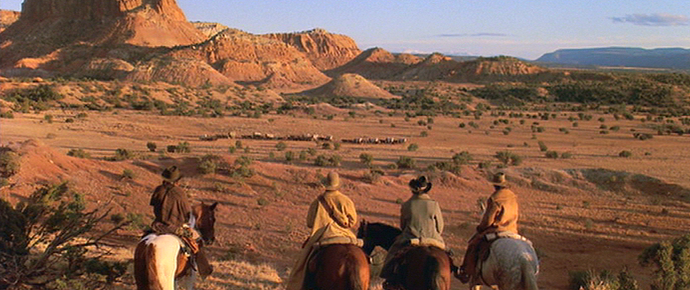 Could that place be … Silverado ??
Very good, looking forward to read it. (I was actually preparing for the watch for a few days. This film can't be taken lightly.)
The Irishman
An hour in, and the CGI faces haven't been too distracting so far.
Been spending this week watching Sergei Bondarchuk's Voyna i Mir (War and Peace), amazing and beautiful film.
The source novel isn't bad either

Yes, one can recognize good books by their possibilities to serve as a film's source …
Update: This film became a chore. Like @aldo said, it seemed like a parody of a Scorsese film at times.
Thought I'd mention, this week I re-watched Taxi Driver which is just in a different league from ''The Irishman'' and how refreshing to see De Niro giving 100% - His performance and the entire movie feel really fresh and vital, a stark contrast to what is on offer these days … most of us here respect Scorsese as one the greats but you can't make excuses or pardon a long boring film even when it's by Marty and the dream team.
It's basically The Expendables: Italian Edition.
Aldo, you're an Irishman, so where's the movie about you??
Still in pre-production! LOL
Only a few more hours to go then