Hi Guys
who's your hero in Spaghetti Westerns?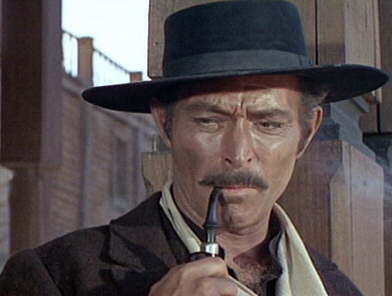 I LOVE Clint Eastwood and his efforts in the "Dollars" trilogy singlehandedly define the sub-genre for the more casual observer. BUT, he was only in three Spags. Three of the finest films of their time of course, never mind "westerns", Eurowesterns" or any other label, yes. But still only three. If the question posed extended to all western movies then Clint, for me, would be a lock. But regarding Spags alone, I have to go with LVC. He's arguably the more intriguing character in both TG,tB&tU and FaFDM, so even if that was all he'd done there would be a case to me made for him over Mr. Eastwood. But on top of those two leviathans you can add The Big Gundown, Death Rides a Horse, Day of Anger, The Grand Duel, Sabata… that's Spag Nirvana right there, and LVC is the most compelling factor in all of them. His face is the very personification of the deadly, mythical West the Italians created.
And his hairstyle alone in God's Gun was more badass and deadly than John Wayne EVER was.
hey guy
who is this Tony Anthony?
i didn't get any information about him in the web
He's just a Stranger. :

The best actor(s) among these? In terms of pure acting Wallach Volonté and Milian, in terms of SW presence there's no question: Eastwood on a par with Lee Van Cleef, followed by Nero Volonté and Garko.
But this is a Topic for The Town Hall section of the forum!

hmm, I probably like Anthony Steffen the most in SWs. Not as an actor per se (as JonathanCorbett pointe dout, I too woul go with Volonté and Milian in the acting department), but as a screen presence.
How is Frank Wolff not on that list? >:(
Oh…sorry my friend
added…
One for Frank Wolff

Just watched Last of the Badmen. Great performance!
Kinski and Milian are the best actors of the genre.
I'd choose between these 2 also. Milian maybe because he did more lead roles.
Volonte and Eastwood are the only ones who made nothing but great westerns which are all in my Top 10, so I'd say they deserve perfect score for their work in SW.
My favorite perfomance is Tuco.
My favorite perfomance is Tuco.
Mine, too. Eli Wallach nailed that character to perfection.
No doubt. But to be best actor the amount of roles and types of roles should be factored in also right?
That's what I would figure.