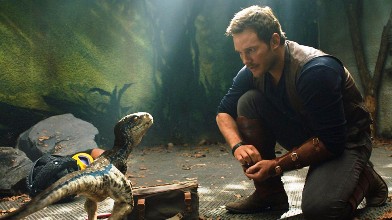 Jurassic World: Fallen Kingdom (2017, Juan Antonio García Bayona)
***½
The Fifth entry into the Jurassic franchise, a direct sequel to Jurassic World (2015). Jurassic World was presented as the first movie of a new trilogy, so this sequel can also be interpreted as the middle part of a new franchise.
In the previous movie, the dinosaurs were no longer simply presented as a threat: they had become real dramatic characters, with a personality of their own (notably Blue, the velociraptor raised by Owen, the dino whisperer). Fallen Kingdom goes one step further than its predecessor: the dinosaurs have become an endangered species and Owen and Claire, the two protagonists of the previous movie, return to the island to save Blue and her comrades.
The film was co-written by Colin Trevorrow, the director of Jurassic World, who told producer Steven Spielberg that he preferred not to direct the sequel and then suggested that Spanish director J.A. Bayona (best known for The Impossible) would take his place. The film is a bit too noisy and hectic, but the action scenes are overwhelming (watch it on a big screen) and there are a few clever details such as Jeff Goldblum returning as Malcolm, the expert in chaos theory, and a young girl who's eavesdropping on everybody and is therefore called Maisie (you don't see that very often in action movies: a reference to a Henry James novel).