Three days ago: Ghost in the Shell (Sanders, 2017)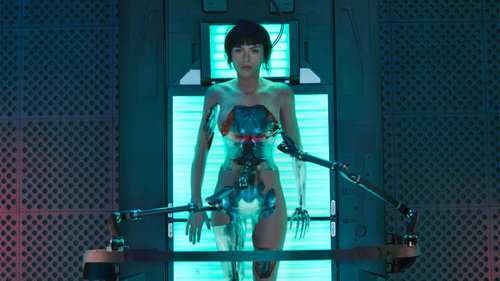 The much-ballyhooed live-action remake of the wildly popular 1995 anime is in fact a somewhat different story which nevertheless covers similar ground and which does so via a number of set-pieces lifted straight from the source movie (although often presented in a different order). Scarlett Johansson plays Mira Killian, a refugee to Japan and victim of a terrorist attack which killed her parents and almost killed her, leaving only her brain intact. However, cybernetic augmented tech is all the rage these days - everyone has at least some form of cybernetic enhancement - and Hanka Robotics are able to make Mira a test case: The first brain implant into an entirely augmented body (or "shell"), ostensibly utilising her as a weapon for the government's "Section 9" anti-terrorist division. Flash forward one year and Mira (now known as "Major") and her Section 9 buddies are on the trail of Kuze (Michael Pitt, Boardwalk Empire), a cyber-terrorist hell-bent on murdering the Hanka Robotics top brass, which puts Dr. Ouelet (Juliette Binoche, Trois couleurs: Bleu), Mira's designer and closest thing she had to a "mother", in the firing line.
The dialogue is a little clunky and it's way overpacked with CGI spectacle but, on the whole, Ghost in the Shell is an enjoyable romp which comes in at just a shade over 90 minutes; a rarity for big blockbuster titles these days, and a welcome one at that. It's not as good as its predecessor - it's just more convoluted and crowded than the 1995 picture - but it's different enough to have been worthwhile, I think. Scarlett Johansson is very good indeed despite the "whitewashing" furore (the role should really have gone to an Asian actor but Hollywood still insists on going for big-name casting over ethnically correct casting when it comes to marquee titles) and "Beat" Takeshi Kitano was fun as always in his role as the Section 9 chief.