6 years is a long time to be away cowboy.
I'd like to get some recomendations on gritty, dark psychological thrillers. Like the style of Taxi Driver, Rolling Thunder, Hardcore, Blow Out, The Conversation… It doesn't need to be A-movies. It can be giallos or exploitation stuff aswell.
How long does it usually take for an Arrow order to arrive? (I live in Belgium) And do they put it in the mail box or do they ring at your door?
If sent by non-trackable post it can take up to two weeks to Denmark so probably the same to Belgium. Doesn't need to be signed for.
Okay, thanks for your answer. It's been one week, guess I'll have to be a bit more patient then.
I live in Sweden and it usually takes 10 days until I have it.
That's a cute little tiddler you've got there! Congrats, mate.
Does anybody know where to get the Japanese DVD and Blu Ray releases of Spaghetti Westerns? Amazon Japan has great prices, but they don;t accept existing accounts, and I really don't want to have to open another account if I'll be using the site sporadically. If anybody has an idea of where I can these items at non-ludicrous prices, thanks very much.
I hope all of you in Europe have air conditioners this summer. Here in my part of Canada today it will be 33 degrees Celsius. I am lucky my parents have a pool.
Only 33, but yes it´s Canada. The last time I was there it was also hot and a lot of mosquitos
Won a 9 ball competition at my local pool club yesterday. Nice money to spend on SWs!
Felt the same after my tax guy called me the other day

Nice money to spend and thanks for calling with the good news

Does anyone in the EU have any recent experience with shopping on Amazon.com? How long does it usually take to arrive? And what are the shipping costs?
I'm planning on buying some stuff, but since I've only used the UK version of Amazon so far, I feel a little nervous.

Hey @Platypus!
I live in Essex, and I have ordered a few bits and bobs from amazon.com and not had an issue yet. On the 17th of July I bought blu-ray copies of The 36th Chamber of Shaolin and Sweet Sweetback's Baadasssss Song from Amazon.com. Those items were £32.62, and I paid an additional £8.35 in shipping and handling. They were with me on the 25th July. Similarly, I bought Django the Bastard from them; This time I paid about £13 for the disc, £5 in shipping/handling and a roughly £3.50 import fee deposit. Got the item 6 days after it shipped.

(oddly enough, if I go to my orders on amazon.com it tells me that my order of Django the Bastard is running late, and they're offering their apologies even though my disc arrived safe and sound almost a fortnight ago. Ah well)
It's pretty much the same as ebay, except that you either have an option to order directly from amazon or you can purchase from a seller through amazon's website, so even if you live in a place where amazon doesn't deliver, you can always buy from another individual and they usually dispatch practically everywhere. Online shops operating via amazon likewise offer lower prices, so there is that as well. Shipping costs are by and large the same.
Yeah, I know how Amazon works. I use Amazon UK a lot myself, but I've never ordered anything from Amazon US, so I was just wondering about the shipping costs and time.
I have one question though. What's the difference between buying from Amazon.com and AmazonGlobal (see screenshot, click to see full image)?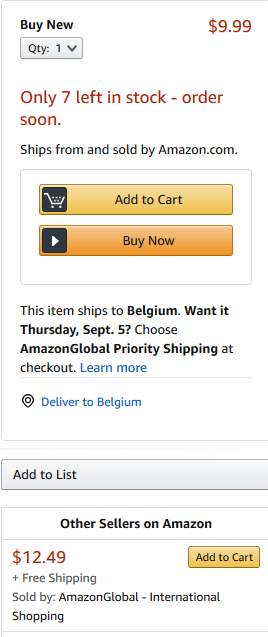 So I'm probably going to place an order very soon, but first I'd like to know if the following items are indeed region free (or playable on a European DVD/Blu-Ray player). So if anyone can confirm, that would be nice. I know some of these are confirmed region free by this website, but it never hurts to double check, right?

PS: some Amazon US links in the database redirect me to Amazon FR for some reason.
I don't know for sure but I didn't think there was any difference in terms of how the item ships. I bought my copy of The Great Silence through Amazon UK via Amazon Global and the disk itself shipped from California much as it would've if Id bought it from Amazon US.
The Film Movement The Great Silence blu-ray and the BU Run Man Run DVD are both definitely region free. Don't know for sure about the BU Companeros DVD but I've got the BU blu-ray and that's region free so I would be staggered if the DVD wasn't. I've no idea on the double feature blu, or if Arrow region lock their region A discs.
Greetings from Greece everyone btw (vacation). Calispera
Thanks for answering. I was just about to place an order on Amazon.com, but then I saw the shipping and import costs. It's a bit too expensive for me, so I don't think I will purchase anything. I guess I'll stick to Amazon.co.uk for now.
Video says Leone played the already scored music which actors acted and reacted to.