Portuguese BETA release!
For a Few Dollars More (1965)http://nuno-dvdcollection.blogspot.pt/2013/09/for-few-dollars-more-1965.html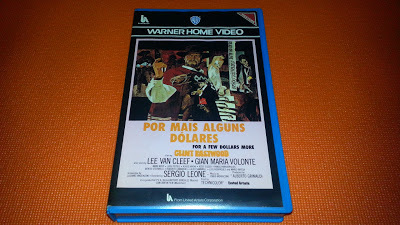 The Colonel cheated in the gunfight with Wild! He did not reach for his gun in the normal fashion , he used a small , concealed pistol (derringer?) instead.
Was he afraid that Wild could have outdrawn him?
:-\
That scene has bothered me for years .
What in italian said Groggy and Indio just before Indio said "Della banca di el Paso" when Groggy first arrived to Indio, and what said Mortimer to Monco when met him in night when break into safe? I distinguished only "accomodate ragazza…"
50th Anniversary FOR A FEW DOLLARS MORE
Half a century ago, shortly before Christmas 1965, the second part in what is now called The Dollar trilogy saw the light
For the occasion I re-watched and re-studied the movie, its genesis and the history of some of its paraphernalia
Part I: For a Few dollars More - The Review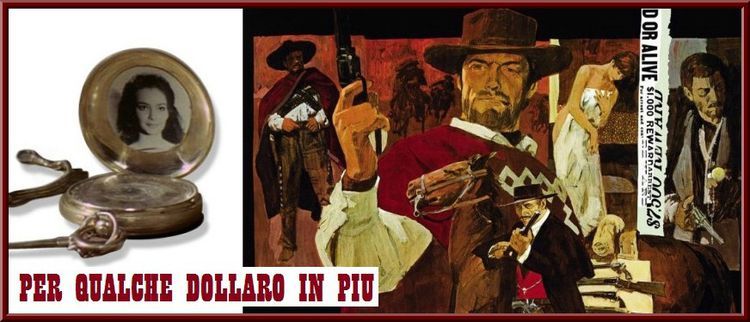 http://www.spaghetti-western.net/index.php/For_a_Few_Dollars_More_Review
Outstanding stuff, Scherp. You're Lee Van Cleef to every other budding reviewer's Clint Eastwood.

Extraordinary stuff, as always Sherp.
He's ruggedly handsome, that's what he is.
"The strange thing about all this, is that Van Cleef was only five years older than Eastwood."
-Wow, I've never noticed this. Weird.
I was as surprised as anybody else when I found out. Actually Sergio had seen Lee in High Noon and a couple of other movies and reckoned he would be in his late forties. Lee was forty when he made For a few Dollars More, Clint 35
The autobiographical bit from Giusti is really interesting
Love this quote too:
Carlo, can you make an arena for me, with the stones around it positioned in a circle. It must be a circle.
I prefer this one to The Good, the Bad and the Ugly. It's funny since this was always my least favourite of the Dollars trilogy until last year.
This film here is the finest example of what a spaghetti western should be, it has a fantastic score, an all star who's who of the spaghetti genre, one of the best ending showdowns in a spaghetti, volonte and van cleef are at there finest here as well as Eastwood and even kinski has a great showdown with van cleef. I hold this spaghetti as the finest this genre has to offer along with good the bad and the ugly by a long shot.
To diverge a bit, and coming from a rural background - I was curious about the original use of the Threshing Circle in the shootout at the end of this movie. Then I watched Trinity is still my Name the other night which shows the monks in the monastery using hand flails to separate the grain from the straw.
It seems the Threshing Circle was common in Spain with the community sharing the Circle and the work.
Horses have also been used in the Threshing Circle to perform the same task.
Online info tells me that the Threshing Circles were called "eras" in Spain, era coming from Latin for area which means open space used for building sites, threshing floors etc. ("eras de trigo" - areas of wheat).
For a few dollars more: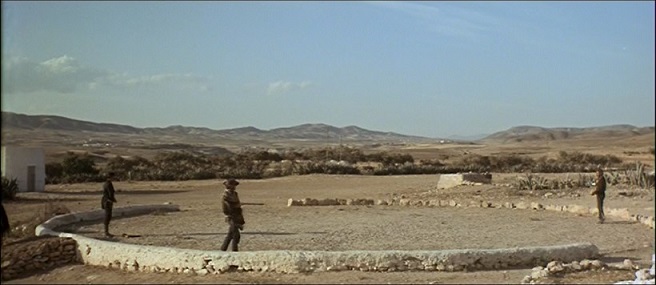 Trinity is still my name:


Threshing without the Threshing Circle - Youtube video:

Both Trinity movies were entirely filmed in Italy: the Mazzano Romano location shown above, only a few kilometers from Monte Gelato waterfalls, was often modified and used from one time to the next as military base, Mexican village or, as in the case here, religious headquarter. Now is gone… nothing left but crops.
Simply overrated, No, that was a bad joke. 10/10.
Clint Eastwood and Lee Van Cleef are the best actors as surviving gunmen,
Sergio Leone is the by far best SW director,
Almeria is the lovliest SW province,
the length of the film is suitable
and last but definitely not least Morricone is in top form.
Do you know the exact Trinity film location in Mazzano Romano by any chance.
Which blu-ray has the original mono soundtrack?