It's an enjoyable one for me.

I meant that once one person mentions a preference, the rest of the flock go along with it … without any explanation. Very typical of the FB mentality and one of the reasons I quit.
'FYG' to me is a poor impersonation of an American western … which I found a chore, and I really like Giuliano Gemma too.
Can you participate if you haven't seen either yet?
I myself have never seen sheep act like that, and I've seen some. As for the films, I agree Gatling Gun is clearly the better, film, never really bad. FB I have little experience with. It took me two full weeks to get out of there, counted from the day I registered.
It is similar to that phenomenon, when some persons see a queue forming, they feel obliged to join the line even when they have no idea what they're lining up for … it's a 'fear' thing. Safety in numbers, fear of being identified as different from the pack.
I find it interesting, but also infuriating

Colosseo Films will be releasing Il ritorno di Zanna Bianca on blu-ray April 3rd.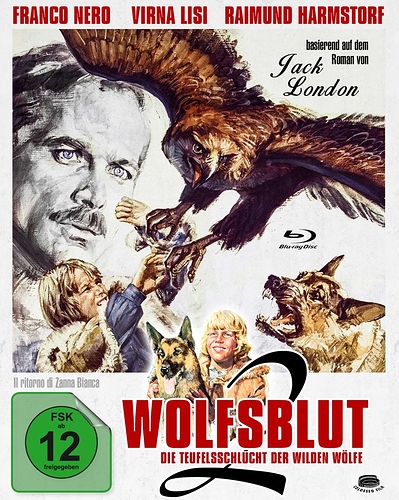 https://www.spaghetti-western.net/index.php/Ritorno_di_Zanna_Bianca,_Il/BluRay
https://www.italo-cinema.de/1466-colosseo-film-die-teufelsschlucht-der-wilden-woelfe-im-april-auf-blu-ray
Is it necessary to be familiar with part 1 in order to enjoy this?
That looks like a kids movie. Is it good?
Not really but it might help as some of the characters are introduced in the first film who appear in this one too.
Maybe more like family movie I'd say. As a family movies these are weird ones though because they have some nasty looking animal fights and brutality. They're ok if you like these kind of films, personally I'm not a fan.
Has anyone heard anything on Koch Media's new transfer and Blu Ray of Any Gun Can Play and any hints on what other titles Koch has planned for its next SW line? Thanks.
Nice. I know it says the cover isn't final but damn that one makes it a hard sell

Hopefully it has English audio like the other Blu-rays! I actually enjoyed Beyond the Law the last time I watched it.
yea we need to wait for final specs…
The aspect ratio on Amazon says 1.77:1 and the film is supposed to be in 2.35:1 from memory. It might end up being a waste of a HD scan like Lion of the Desert.
The info at the above sets the aspect ratio at 2.24:1 which probably also means nothing

I would be very surprised if it wasn't presented in the correct aspect ratio. More worried about the dub.
It also appears to be a much shorter version, again if that info is accurate ?

The Amazon site says 89 min, this would be the Pal runtime of the heavily cut German version. And in any case a worthless release of this film.
I doubt that this will happen, and expect the uncut version. Maybe the German version is also on the disc.
I won't buy it anyway, as the film is not good enough for me to justify another purchase.