Anyone knows what happened to WEs latest announcement of Today it's me…Blu-Ray?
Eureka are releasing Giu La Testa, but I don't think it's a new transfer.
Says it will feature two versions from two different transfers on separate discs, but nothing about new transfer
The trailer they out out yesterday had a horsefall… but dont get your hopes up
As we're nearing the holidays, where usually the best Blu Rays and DVDs are announced, is there any word on when Koch Media is going to announce what new SW's they're planning on releasing soon? I;m hoping something is floating about out there.
still nothing, but they announced the 4k restoration release of 1900 :))
January and early February Kino Lorber Studio Classics titles announced, and they include on 1/7 The Hellbenders (1967) | Kill Them All and Come Back Alone (1968) | The Specialists (1969)
Nice! I loved Colosseo's Blu Ray of Black Jack, and I'm sure this'll be just as great. Let's hope they'll add El Puro and Seven Guns for the MacGregors next.
some retro package re-issues from X Rated
Price of Power aka A Bullet for the President coming from Wild East. Database updated.
Sourced from the German release I gather. Nice to see that they (Wild East) aren't totally dead.
I'm glad to see an english blu ray release of this. Really fun movie.
German DigiDreams are releasing Viva la muerte… tua! on blu-ray in January: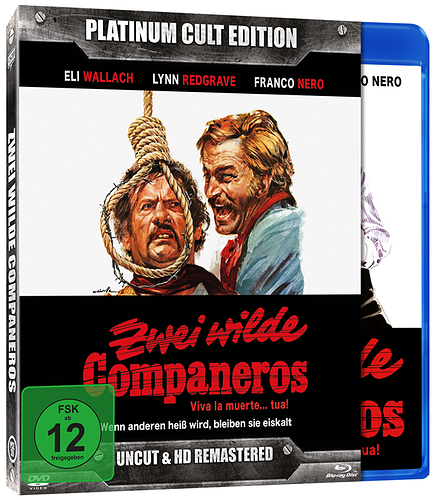 https://www.italo-cinema.de/1436-digidreams-zwei-wilde-companeros-im-januar-2020-auf-blu-ray
Another Franco gem getting restored! Always wanted to see it.
Kino have confirmed The Specialists will only have French & Italian audio, as they have no clue where to find the English. Alex Cox will be providing the commentary, on yet at other film he doesn't like.
Cat is out of the bag
Edit: Dean was a split second faster posting. I have added all info and covers to the database